PAWS Animal Rescue
Connolly's RED MILLS are proud sponsors of PAWS Animal Rescue and feed all of the PAWS dogs from our Leader dog food range. PAWS were particularly eager to choose the Leader range, because of the many options available for dogs with very different circumstances, sizes, and weights. Unfortunately, when new dogs arrive at PAWS they are oftentimes very underweight, and the canine care manager Sarah, will choose our Leader Supreme product with added levels of omegas, vitamins and minerals it gives weakened dogs a little something extra to help bolster their immune system, and build up healthy muscles and joints. For older dogs who may be at the rescue for a longer time and may not be able to get as much exercise as needed, our Leader Slimline food helps them keep healthy and trim, leaving them less prone to weight gain and heart issues in later life. Many dogs nowadays suffer from skin allergies or gastric sensitivities, or both. Our Leader Sensitive food is made from lamb which can aid gentle digestion. All of our Leader products have been developed by Vets, are hypoallergenic, and made with all natural ingredients from local farms.
PAWS Animal Rescue was established in 1997 and the team there are dedicated to rescuing homeless and abandoned animals, primarily dogs from high-kill pounds and owners who can no longer care for them.
By working with a network of volunteers, local Veterinary surgeons and overseas adoption groups PAWS are able to help hundreds of animals every year, provide them with loving temporary care, and find them well-matched, carefully screened forever homes, both here in Ireland and further afield.
With approximately on average 100 dogs in the care of PAWS at any one time, dog food would usually be a huge expense to the charity, and we are proud to supply food for all of the dogs at PAWS as well as expert advice from our nutrition team whenever needed. We also organize staff volunteer days so that our teams across the Red Mills business can get involved and lend a hand wherever we can.
Irish Therapy Dogs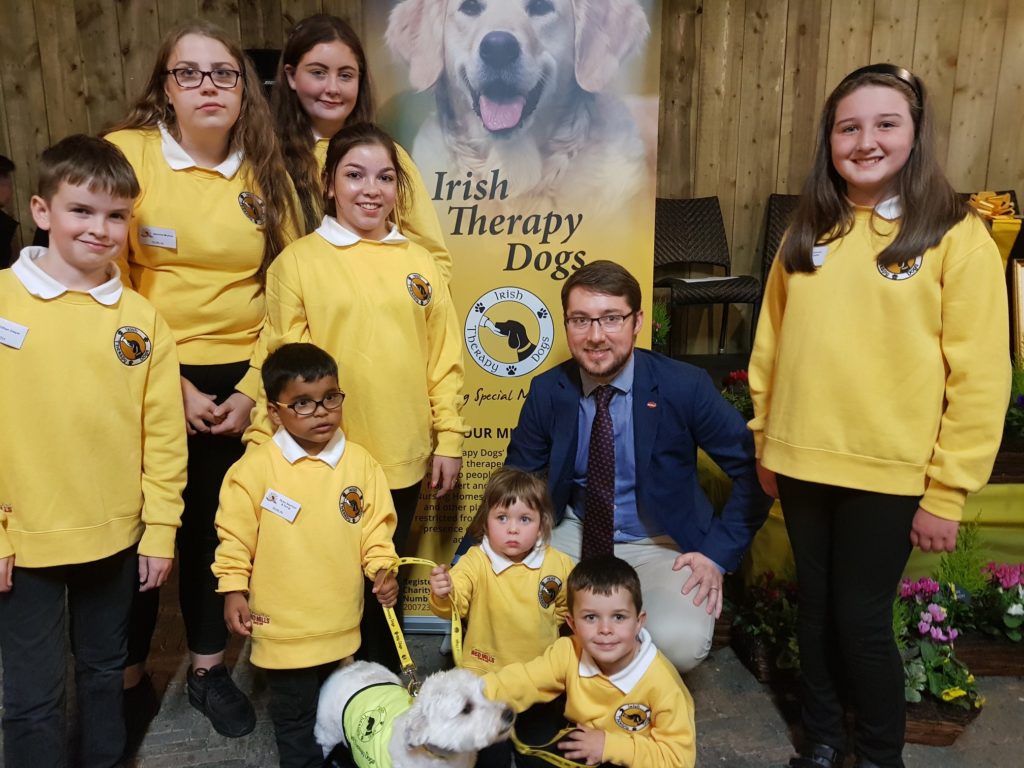 All pet owners know the benefits our furry friends provide us, and research has shown that there are clear health benefits to having a pet. But those benefits can be extended beyond the dog's owner. We have all had the experience of walking our dog and noticing someone's face light up the minute they see our pet approaching. It might be a small child eager to come pet the dog or another adult admiring him. Irish Therapy Dogs have been bringing the benefits of canine company out to the community to help people in a wide range of care centre settings for ten years now. As they celebrate this anniversary milestone, it's a great time to learn more about the organisation and how they help others. Connolly's RED MILLS has been involved since the organisation's founding a decade ago.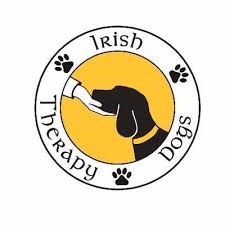 Irish Therapy Dogs brings Visiting Teams – human and canine – into many types of Care Centres where people are living for short or long periods such as Nursing Homes, Mental Health Facilities, Hospices, Day Centres and Schools. The benefits of their visits are enhanced by residents having the opportunity to get to know individual dogs, so the same team will visit the same centre on a consistent weekly schedule. While some residents are instantly charmed by the visiting dogs, others might need to see them a few times before they warm up to them. The Visiting Teams spend time with each resident individually, which also ensures they are not overwhelmed. Even something as simple as petting or talking to a dog can provide great benefit.
"We go very individually to each person," explained Brenda Rickard, Chief Executive of Irish Therapy Dogs. "That's very important. We give everyone their moment. When they get to know each other, they feel very relaxed. And when they feel relaxed, they open up. That's the beauty of what we do."
Dogs Helping Children to Learn
Irish Therapy Dogs also go into schools. Of course, most children naturally love dogs, but these visits have a serious purpose. Actually, they have a few different serious purposes. For some children, school is extremely stressful and just being in a classroom is a challenge. A dog can help children with anxiety, autism and other challenges relax in the school setting so they can learn and enjoy their school day more.
The visiting dogs also help children learn to read. The volunteers involved in the Reading Program must have a teaching background. They can build a child's confidence because they are uncritical listeners. Children read to the dogs in this programme, and both seem to love it. These teams also visit schools on a weekly basis.
The dogs give the children encouragement and make them feel at ease. They are non-judgemental which is enormous help if a child is struggling

Brenda

That is definitely something parents can try at home! Dogs are an appreciative audience, and children as well as adults can share their worries knowing their pet won't gossip or think less of them.
Children & Dogs: An Unbeatable Combo
Children and dogs have a natural bond, and together they are quite a team. That's why Connolly RED MILLS is a proud sponsor of Irish Therapy Dog's Junior Members. Children of all ages are involved in Irish Therapy Dogs' work, visiting Care Centres with dogs. They accompany the adult teams, and are always supervised. The youngsters don't have control of the dogs; the adult team members do.
The Junior Members programme also offers opportunities and benefits to the young volunteers. Of course, they get to see first-hand what therapeutic contact with dogs is and they learn so much by watching the adult volunteers. But they also get to enjoy special outings such as courses on dog grooming and visits to the airport to learn about the trained sniffer dogs working there. Children are an important part of the group's awareness days. Irish Therapy Dogs interviews children to ensure they are genuinely interested and willing to commit. Parents might think it sounds like a great activity, but that isn't enough.
The child has to want to do it, You cannot have children who are not interested. There is no point. They need to have a love of animals, know what we do and want to do it.

Brenda
These young people can give us all confidence for the future with their compassion and willingness to commit to helping others. William Connolly was on hand to award Catherine Caddell the Junior of the Year Award at the recent anniversary celebrations.
If You Are Interested in Joining…
Irish Therapy Dogs are always looking for new volunteers to join their teams, but volunteers need to be able to make a serious, long-term commitment. Because the core of the work is regular visits to the same people, it is important that volunteers can commit to showing up at the same time each week for a one-hour visit.
Volunteers must be at least 18 years of age (unless they are junior members of course). They need to have a caring and friendly manner. Confidentiality is critical, so volunteers must understand that they should not identify who they visit and should handle all aspects of their visits with discretion. The volunteer application process takes about a month and includes Garda vetting.
The dogs also have a few requirements to meet. They must be more than one year old, house trained, well-groomed, vaccinated and be preventatively treated for parasites. Irish Therapy Dogs cannot work with restricted breeds (American Pit Bull Terriers, Alsatians/ German Shepherds, Bull Mastiffs, English Bull Dogs, Doberman Pinschers, Japanese Akitas, Japanese Tosas, Rhodesian Ridgeback, Rottweiler, Staffordshire Bull Terrier or any cross breed of any of these breeds.) Dogs should also be sociable, friendly, calm, gentle and confident. This is a lot of fun for dogs who enjoy attention and pets from new people.
Could your dog bring comfort and joy to people in Care Centres?
Would you with your dog like to Volunteer for this valuable work?
Would you like one of our Volunteer/Dog Teams to visit your Care Centre?
You can download an application form from the Irish Therapy Dog website: www.irishtherapydogs.ie