Crufts catch-up with our Flyball Ambassadogs Aces High
05 March 2020
Hi guys, you're competing today at Crufts, who's on this years team?
This year we are super excited to be going back to Crufts the team we have competing this year are Heist, Shoots, Nova, Hustle and new addition to the team Ryot.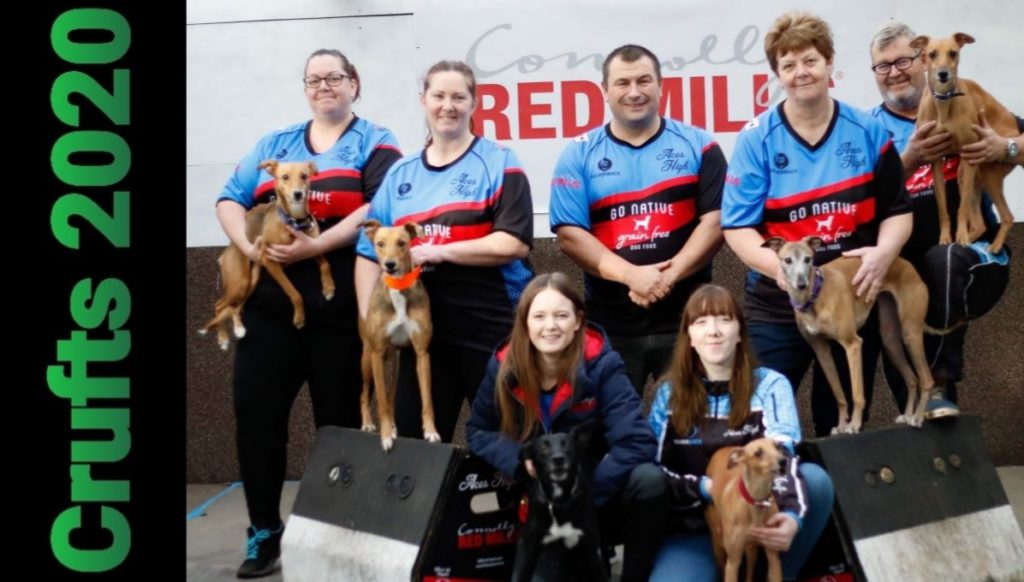 Ryot is from another one of Aces litters and shoots is her dad, she runs as start dog and loves flyball, she was the smallest of litter and has been competing with the Aces Team for the last 6 months, she stepped in whilst Hustle was pregnant and was getting back to fitness after her puppies.
Tell us more about the individual dogs?
Shoots likes bikejoring and when he is not at flyball love nothing more than being out with Andy and the bike which is another great way of keeping his fitness levels up
Heist absolutely loves to swim and has started to play a lot with a frisbee although Rhea needs to work on her throw!
Hustle recently had a litter of puppies, 2 stayed with Andy and Jeanette and with their mum Hustle and the other 3 puppies all went to Aces team members so they all come along for a puppy play and cuddle session every week, Hustle occasionally love a weak cup of tea in the mornings and has been working hard to build her fitness back after having her pups and she has done amazingly and is a great mum.
Nova loves cuddles and if you don't tuck her in at night under a blanket she will pester you and won't let you get any sleep!
When the dogs aren't competing what do they get up to?
When they are not competing all the dogs love going out on long walks, the team meet up and go bikejoring and we also do some lure coursing for their fitness, we have also recently started doing a paws and cores session working on the strengthening the muscles and cores in the dogs and also looking after their paws and nails as you can get injuries if their nails are too long so we work hard to make sure all our dogs are in great shape and their paws are well looked after, it's also another great way for the team to get together.
How have you been preparing for Crufts?
In preparation from Crufts we have been training every week, we have a new box which is smaller than our original one so we have concentrated a lot on the dogs technique on the box as well as doing the paws and cores sessions in the week, we have also got a treadmill at the training shed so we have used that to help with their fitness, the last couple of days before Crufts all the dogs will just have time off to sleep rest and have loads of cuddles on the sofa in preparation for a busy racing weekend.
How important are the dog's diets when they are preparing for a big event like Crufts?
With big events like Crufts, Long racing weekends and the world championships coming up diet is extremely important, the dogs are all training and we are working on their fitness so what we feed them is massively important as it is what gives them their energy and keeps them in a great condition. Red Mills is fantastic and we have all noticed big improvements in our dogs coats, energy levels and not to mention they all love it and there is always a race to the kitchen when it's dinner time!!
Apart from flyball, what else are you looking forward to at Crufts?
Aside from the flyball at Crufts we are all looking forward to the shopping and spoiling all the dogs, it's also a fun weekend with everyone we tend to have team dinners in the evenings and a few drinks and it is always great fun when we are together and there are always a lot of laughs we are a big family and weekends like this are nice to spend with each other. Also seeing all the other teams so we race with/against in other competitions so there is always friendly rivalry and it is great to be able to see and catch up with everyone, we also talk to a lot of people who have watched us in the ring or seen the Facebook page and videos and they like hear about us the dogs and meet the team which is really nice.
And finally, how are the puppies doing?
Hustles puppies are doing great, Venom and Ambush stayed with Andy and Jeanette, Hairpyn is with Tye Jeanette's daughter, Connie is with Jackie Jeanette's sister and Hex is with Sam an Aces team member, as I said before we have a special puppy session every week where they all come out for a play, they all live the tuggies and the whole team get involved playing with them whilst they are out. They are all gorgeous and such happy puppies and we can't wait to see them all grow up and join their mum in the racing lanes!
We are all excited for Crufts and although I'm sure their will be a few nerves from the handlers I can assure you the dogs have all been snuggled up asleep on the sofas without a care in the world!
Aces High are competing in the Resorts World Arena at 14.55 today. Wishing the team the very best of luck from all of us here at Red Mills!