Is Broccoli Good for Dogs?
25 May 2020
One of the joys of the season for many is gardening. It can be extremely fulfilling to grow your own veggies, and nothing is fresher than what you can harvest in your own back garden. For dog owners, this leads to questions about which vegetables are safe for dogs. Dogs aren't above helping themselves while they are pottering around the garden, and of course if we have something wholesome and delicious, we naturally want to share it. Broccoli is a marvellously healthy food for people that is easy to grow yourself. But can dogs eat broccoli? What should you do if your dog eats broccoli? Is broccoli safe for dogs? The good news is that yes, in moderation broccoli is good for dogs.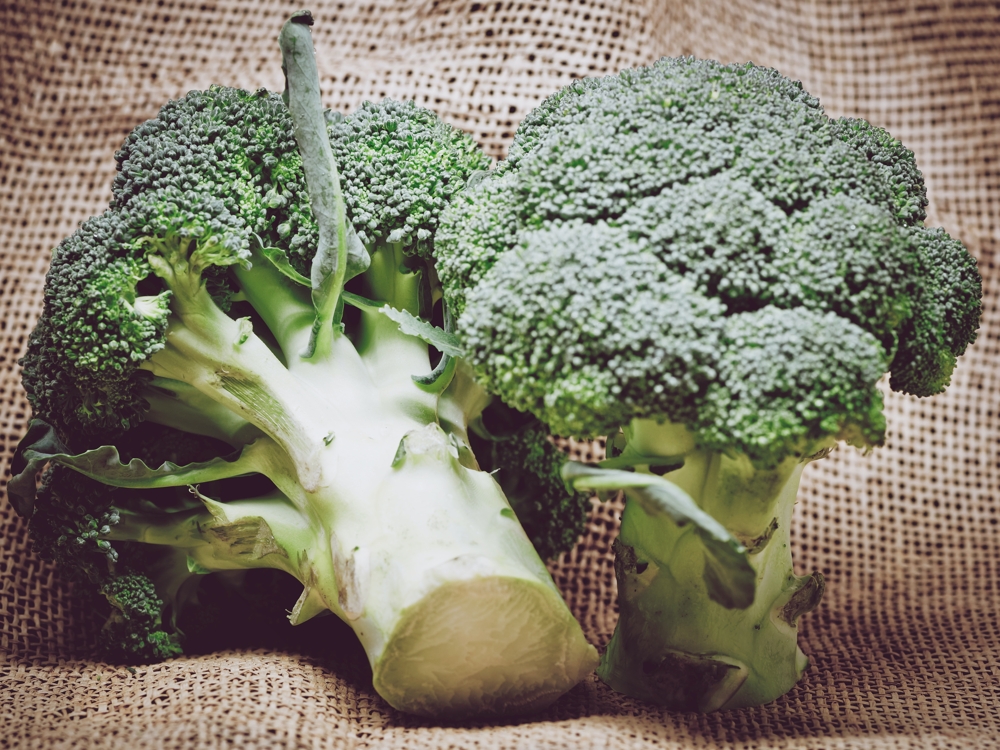 It is important to understand, however, that broccoli is a complicated vegetable. The important thing is not to overdo it. This delicious, nutritious veggie is an example of the dangers of too much of a good thing being not very good.
Pros and Cons of Feeding Your Dog Broccoli
When feeding your dog table scraps, it is always important to give them small amounts of plain food – no spices, seasonings or sauces. The food itself is often fine, but with the wrong preparation it can become dangerous. Broccoli poses two other risks dog owners should know.
Broccoli contains isothiocyanates, which can irritate the digestive system.
Broccoli stalks can be a choking hazard or can obstruct the oesophagus.
Why risk these dangers? Broccoli also has wonderful health benefits for dogs. It's an excellent source of fibre and antioxidants, for starters. Fibre promotes healthy digestion, and antioxidants help the immune system, skin and coat and the brain stay healthy. Broccoli also offers lots of vitamin C as well as B6 and A, and it is extremely low in fat. And critically, many dogs absolutely love the taste of this crunchy green veggie. So how can dogs eat broccoli safely? The two most important things to consider are the amount of broccoli and how it is prepared.
How Much Broccoli Can Dogs Eat?
The reason to limit how much broccoli you feed your dog is to ensure they don't get more isothiocyanates than they can easily tolerate. The amount of isothiocyanates an individual dog can tolerate depends on the dog's weight. And of course, some dogs have more sensitive tummies than others.
A good rule of thumb if you are feeding your dog raw broccoli or plan broccoli in table scraps is that this vegetable should not make up more than ten percent of their food. That is a good, safe limit very unlikely to cause any gastric issues. And it allows your dog to enjoy plenty of crunchy broccoli and all the nutritional benefits it offers.
Really, an occasional broccoli snack is very safe for your dog. While most of our canine companions do like the taste of broccoli, they are meat-lovers unlikely to appreciate a diet with too much vegetable.
How Can Dogs Eat Broccoli Safely?
If you want to give your dog the goodness of broccoli regularly, you can. If you are growing broccoli in the garden and have excess, you can chop it up into small pieces and either add it to your dog's meals or offer small amounts as a snack. But if you do this, be sure to protect your vegetable bed from any canine raids. If your dog realises a tasty snack is just sitting there in the garden, they might decide to help themselves.
Broccoli might a frequent left over in your house, especially if you have children whose opinions on vegetables change frequently or don't quite align with your own views on how much to eat! In this case, as long as the broccoli is plain – no onions, garlic or other spices, seasonings, sauces, etc. that can be harmful – it is fine to share with your dog. Of course, children should be discouraged from feeding dogs at the table. Our fur babies will have better manners if we give them the leftovers in their own dishes after the people are finished eating.
Red Mills Go Native line of grain-free dog foods and treats offers two great ways to give your dog the natural goodness of broccoli. Go Native uses primarily locally sourced, sustainably farmed ingredients to give your dogs wholesome food and treats with a range of flavours to keep them happy. Broccoli is a featured ingredient in one of the Go Native foods and one of the dental sticks.
Go Native Chicken with Potato and Broccoli is a premium, grain-free food. Ideal for dogs who can't digest grains well, this is a tasty way to give your pet the goodness of Irish-grown broccoli every day. Featuring 70% meat protein from Irish, free-run chickens, this Go Native food boasts locally grown, traceable ingredients from farmers we know and trust.
Go Native Dental Super Sticks with Pumpkin and Broccoli help keep your dog's teeth clean and healthy. Along with regular tooth brushing, these dental sticks control the build up of tartar and plaque. Your dog will enjoy tempting flavour and chewy texture, and you can be confident that this is a wholesome treat, free of grains or other low grade fillers.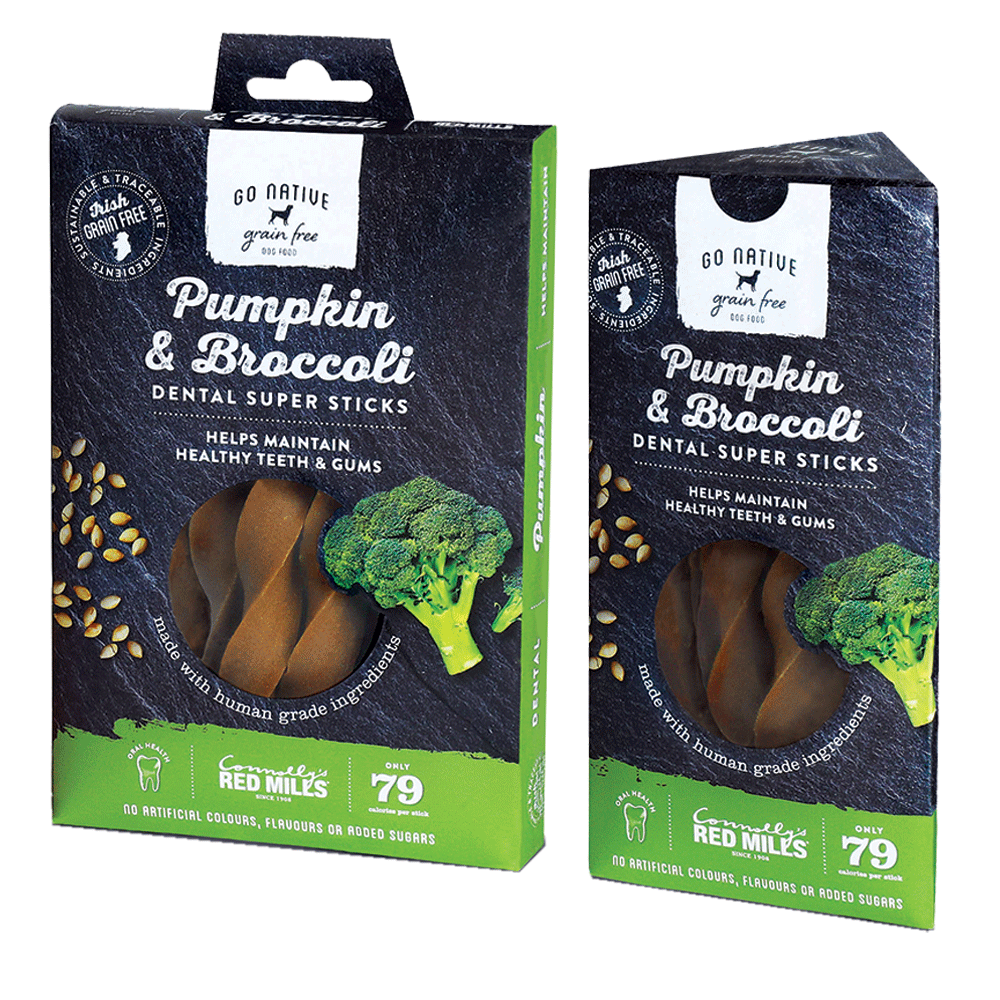 However you choose to add broccoli to your dog's diet, it can offer real health benefits in moderation. Choosing Go Native products means you don't have to worry about preparing the broccoli safely or measuring the right amount to avoid irritating their stomach. It's the simplest way to give your dog the goodness of wholesome, locally produced broccoli.