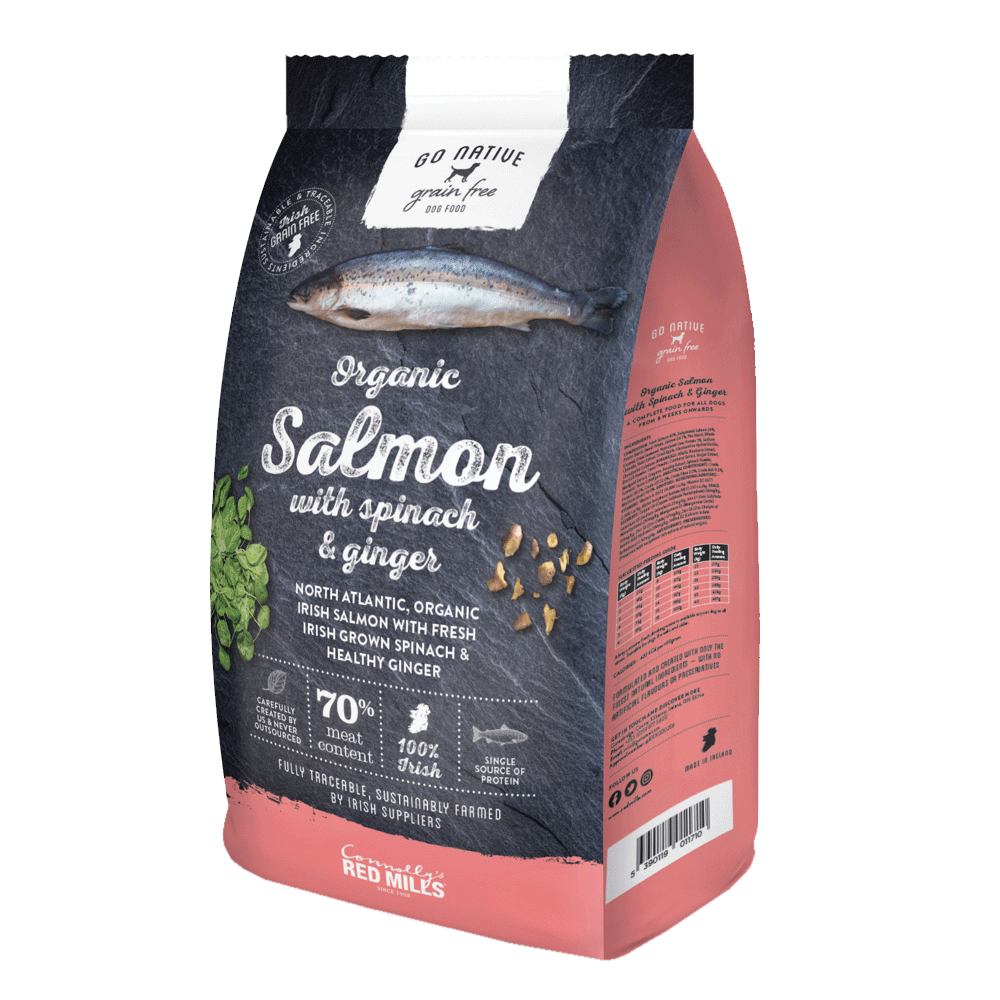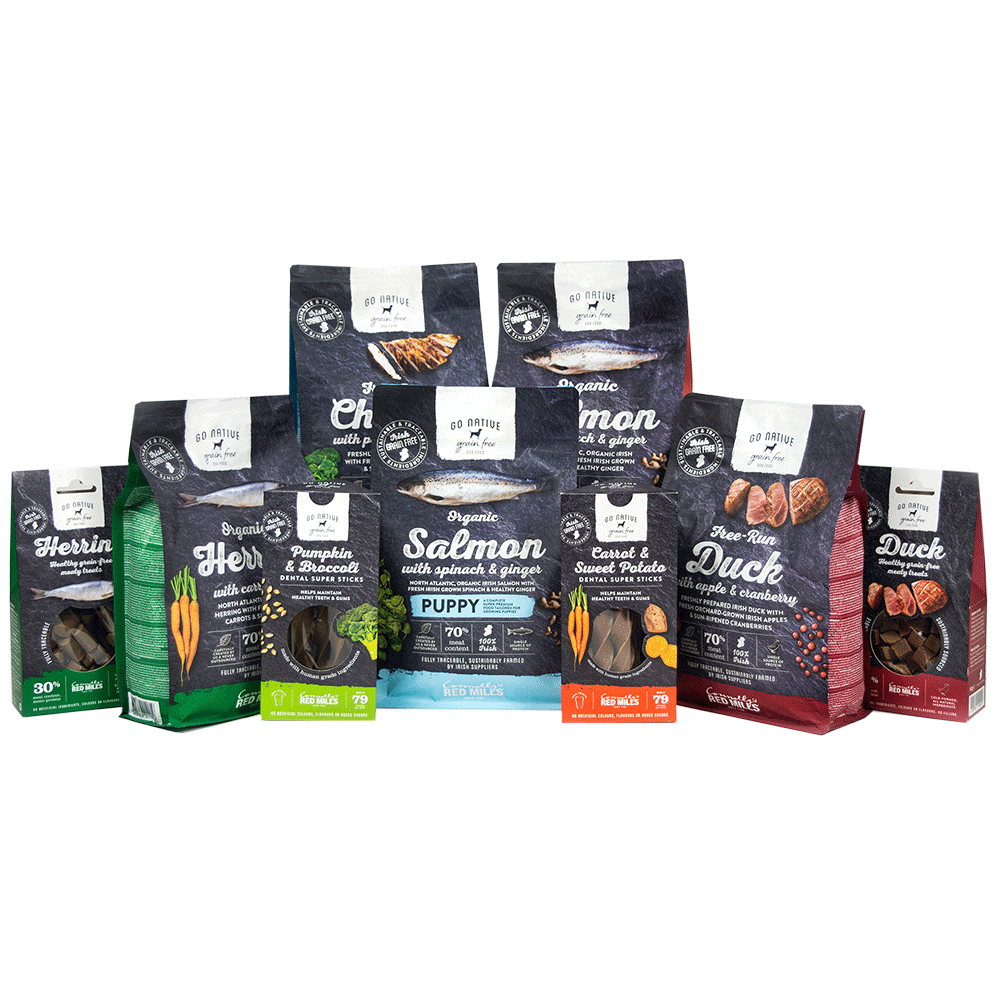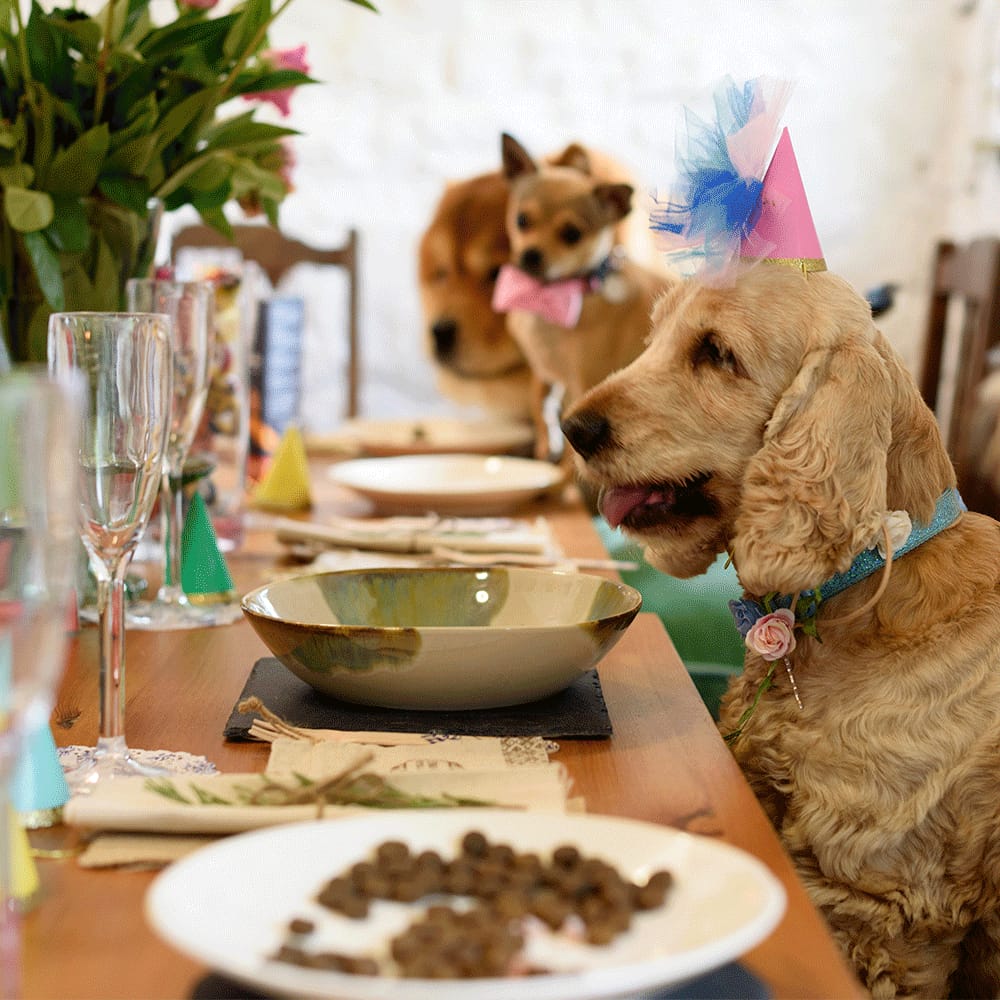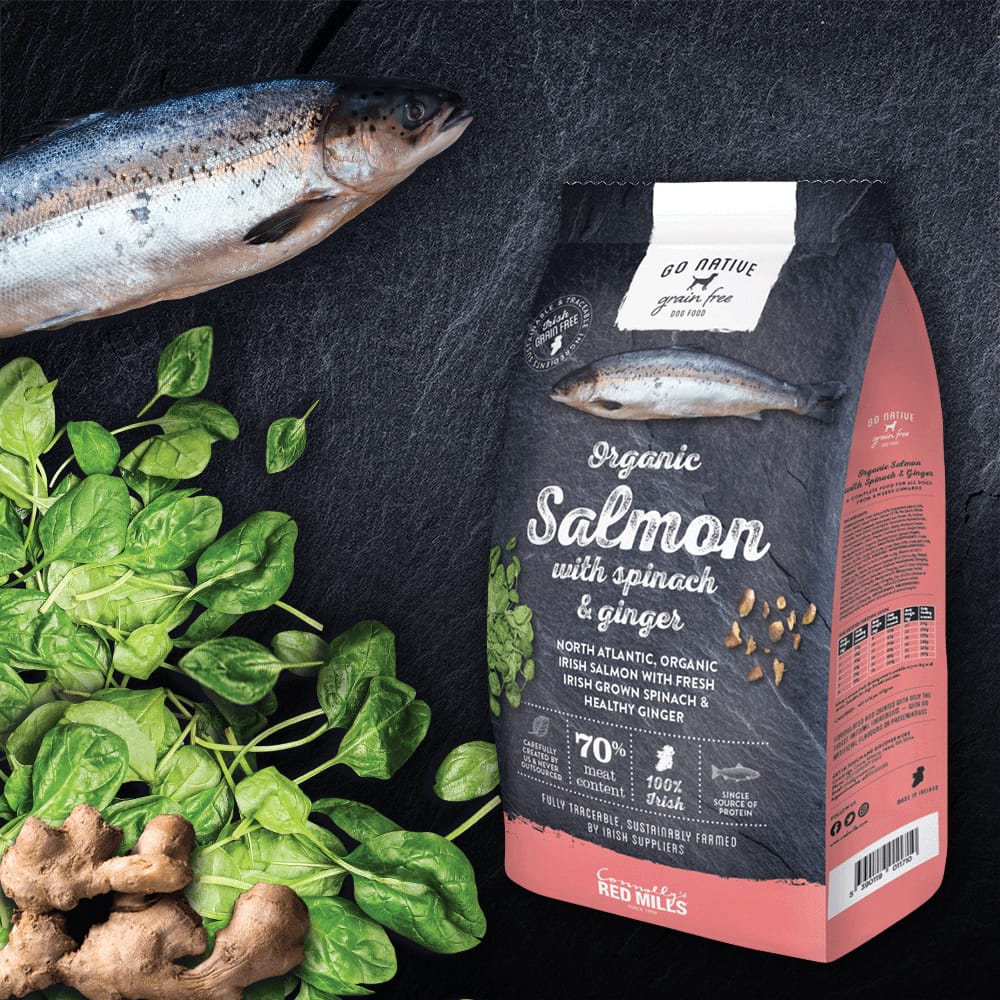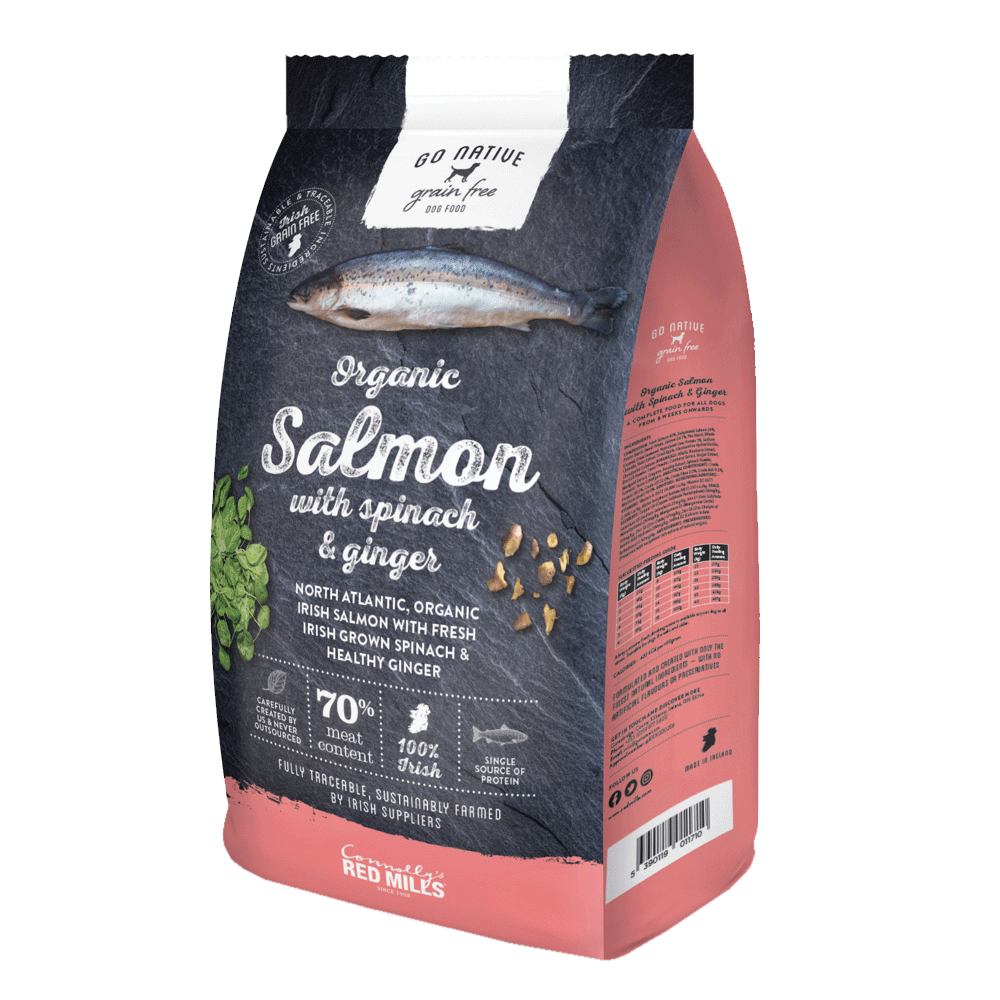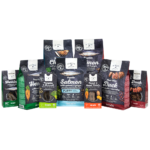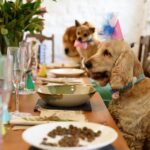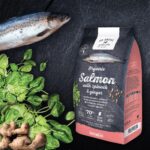 Available Sizes:
800grams, 4kg, 12kg
Go Native Salmon with Spinach & Ginger
Made with 70% delicious Organic Irish Salmon, this grain free, hypoallergenic recipe is blended with natural Spinach & Ginger, and bursting with antioxidants, all of which are designed to support your dog's immune system, while prebiotics from seaweed help promote a healthy tummy.
Salmon is a great source of protein, is highly digestible, can help improve brain function and strengthen immune systems.
Organic, fresh Irish salmon with hand-picked Irish spinach & ginger
70% meat content mono protein
Sustainably sourced, fully traceable, grain-free ingredients
100% Irish product
GRAIN FREE & PALEO BASED Ensuring a low allergy risk
NO WHEAT, MAIZE, SOYA OR CORN And potato flour makes it 100% gluten free
NATURAL INGREDIENTS All natural preservatives, no genetically modified ingredients
NUTRITIONAL INGREDIENTS Designed for strong bones, healthy muscles and shiny coats
GUILT-FREE TREATING Go Native Meaty Treats, specifically designed low fat, low calorie recipes
ORAL HEALTH Go Native Dental Super Sticks long lasting chews combined with anti-bacterial ingredients help maintain healthy teeth and gums
MANUFACTURED AT OUR OWN PRODUCTION FACILITY Go Native is carefully created at our own factory which is accredited to BRC global standard for Food Safety (Grade AA)
MONO-PROTEIN Contains only ultra premium single sourced chicken, duck, salmon and herring
CONTAINS NO GM INGREDIENTS Formulated and created with only the finest natural ingredients
Ideal For:
Composition
Fresh Salmon 40%, Dehydrated Salmon 24%, Potato Starch, Sweet Potato, Salmon Oil 7%, Pea Starch, Whole Linseed, Dried Seaweed, Hydrolysed Liver Protein 1%, Sodium Chloride, Yeast Extract, Dried Apple, Dried Spinach Powder (5% fresh spinach equivalant), Dried Ginger Extract (4% fresh Ginger Equivalant) Glucosamine Hydrochloride, Chondroitin Sulphate, BOTANICALS: Alfalfa, Dried Blueberry, Dried Carrot, Dried Cranberry, Dried Marigold, Oregano, Dried Rosehip, Turmeric, Yucca schidigera.
Analytical Constituents
| | |
| --- | --- |
| Protein | 30.0% |
| Fat Content | 22.0% |
| Crude Fibres | 2.0% |
| Ash | 7.5% |
| Moisture (max) | 10.0% |
Your dog is unique and his feeding requirements will vary with his age, activity and environment. That's why we suggest starting with the guides below, and then monitoring his weight and adjusting portions as needed.
All recommended feeding amounts are in grams per day.
Ideally feed your adult dog in two feeds per day rather than just one, especially for large breeds. However, be vigilant with the amount of food you give them.
Feed puppies from 6 weeks onwards, 3 times per day until the age of 6 months, then reduce to twice per day.
We recommend you try to feed your dog at the same time each day.
Please ensure a supply of fresh drinking water at all times
Less Active: Less than 30 mins exercise per day
Active: 30 – 60 mins exercise per day
Highly Active: Over 60 mins exercise per day
Breed type
Body Weight
Less Active
Active
Highly Active
Toy
1kg
17g
20g
23g
2kg
31g
36g
41g
Small
3kg
39g
46g
53g
4kg
55g
65g
75g
5kg
62g
73g
84g
6kg
72g
85g
98g
8kg
93g
109g
125g
Medium
10kg
106g
125g
144g
12kg
122g
143g
164g
14kg
142g
167g
192g
16kg
158g
186g
214g
18kg
170g
200g
230g
20kg
183g
215g
247g
22kg
196g
230g
265g
Large
26kg
220g
259g
298g
30kg
245g
288g
331g
35kg
279g
328g
377g
40kg
312g
367g
422g
Giant
50kg
344g
405g
465g
60kg
383g
450g
518g
70kg
417g
490g
564g
You will typically feed less Go Native than other dog foods owing to its nutritionally dense content with 70% meat content.
Go Native products should be stored out of reach of children in a cool dry place below 25ºC and out of direct sunlight.
Go Native Treats are suitable at any time as a snack or reward.
Go Native Treats and Dental Super Sticks are suitable for dogs 6 months and older