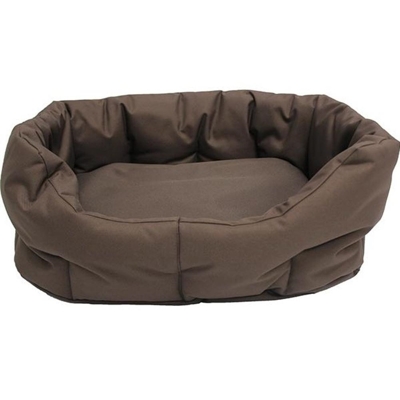 Available Sizes:
Extra Large, Extra Small, Large, Medium, Small
£46.95 – £64.95 £64.95£64.95£53.50£46.95£46.95
Horseware Rambo® Dog Bed in Brown
Description
Size: XS-XL
Part of Horseware's Rambo® Dogware range. A tough and durable walled dog bed.
Fabric
Waterproof sections are made of durable 840D waterproof polyester. Fleece sections are made of soft and cosy double bonded polyester fleece.
Features
Made from chew resistant waterproof materials or durable soft and cosy double bonded fleece these beds offer the ultimate in comfort to your pet. With high outer walls and a thermobonded fibre cushion they keep your pet warm and snug. Easy to clean or wash, fade resistant and light to transport. Co-ordinates with the rest of the Rambo Dogware range.
Size (cm)

Product name
Length
Width
Gusset
Rambo Dog Bed XS
58
47
25
Rambo Dog Bed S
63
52
27
Rambo Dog Bed M
68
57
29
Rambo Dog Bed L
73
62
31
Rambo Dog Bed XL
78
67
33