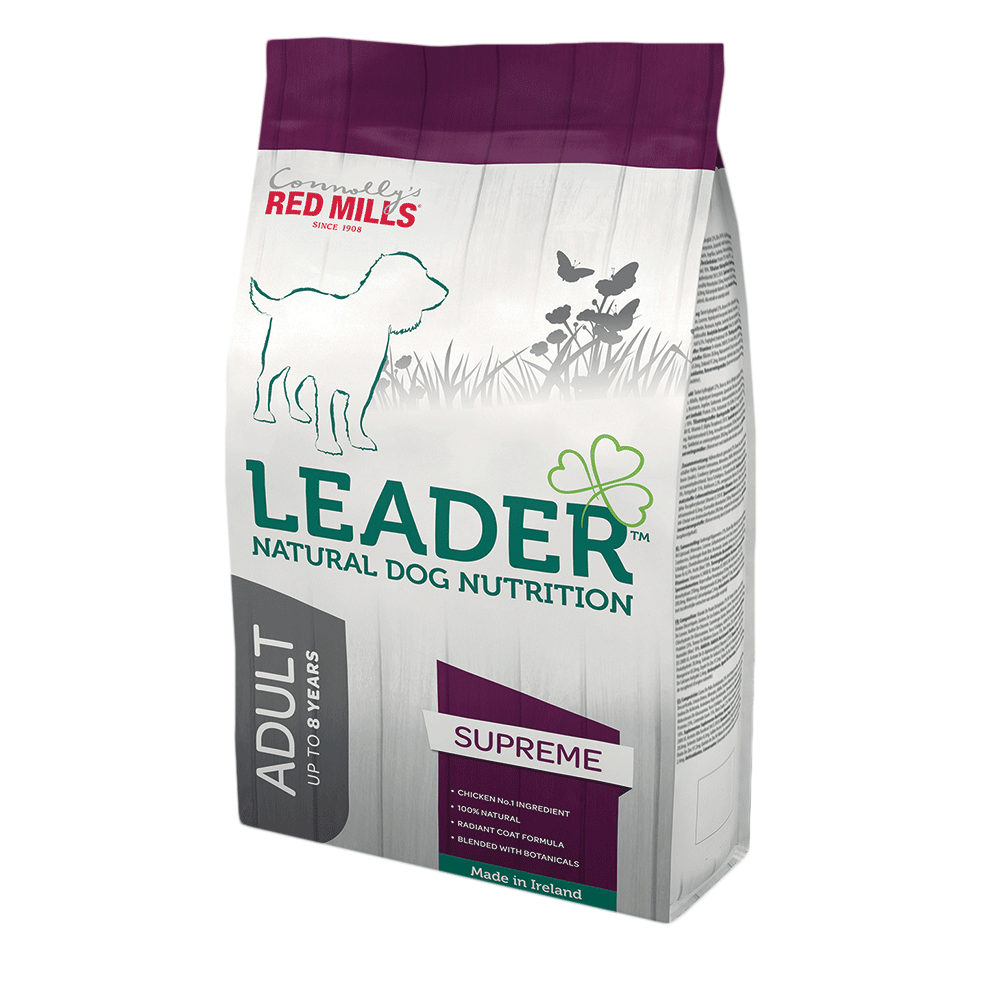 Available Sizes:
2kg, 12kg
£11.99 – £39.99 £11.99£39.99
Leader Adult Supreme Medium Breed
Higher levels of quality protein, oils and omega 3 fatty acids make this blend of chicken and rice perfect to keep your dogs looking and feeling their best. Blended to give your dog a glossy coat and radiant health, the Supreme line is a great choice for your best friend.
Chicken number one ingredient
100% natural
Radiant coat formula
Blended with botanicals​
For dogs who deserve to look and feel their very best. Higher levels of protein, oils and omega-3s in Leader Adult Supreme provide superior nutrition for your adult dog to promote excellent health, vitality and appearance.
The chicken and rice formulation is highly digestible and palatable and enhanced with increased levels of glucosamine and chondroitin, which help to promote healthy joints.
Ideal For:
Composition
Dehydrated Chicken (27%), Brown Rice, White Rice, Chicken Fat, Dehulled Oats, Whole Linseed, Minerals, Alfalfa, Hydrolysed Liver Protein, Yeast Extract, Chicory Inulin, Dried Cranberries, Dried Beetroot, Rosemary, Ginger, Turmeric, Glucosamine Hydrochloride, Yucca Schidigera, Chondroitin Sulphate.
Analytical Constituents
| | |
| --- | --- |
| Protein | 23.0% |
| Fat Content | 15.0% |
| Crude Fibres | 2.2% |
| Ash | 6.5% |
| Moisture (max) | 10.0% |
Nutritional Additives per kg
Vitamins

Vitamin A
24,000 iu
Vitamin D3
2,000 iu
Vitamin E (Alpha Tocopherol)
250 iu

Trace Elements

Copper Sulphate Pentahydrate
28.0 mg
Sodium Selenite
0.3 mg
Iron Sulphate Monohydrate
250.0 mg
Manganese Oxide
65.0 mg
Zinc Oxide
97.2 mg
Zinc Chelate of Amino Acid Hydrate
200.0 mg
Calcium Iodate Anhydrous
2.4 mg

Antioxidants, Preservatives

(Preserved with tocopherol-rich extracts of natural origin)
Your dog is unique and his feeding requirements will vary with his age, activity and environment. That's why we suggest starting with the guides below, and then monitoring his weight and adjusting portions as needed.
All recommended feeding amounts are in grams per day.
Ideally feed your adult dog in two feeds per day rather than just one, especially for large breeds. However, be vigilant with the amount of food you give them.
Feed puppies from 6 weeks onwards, 3 times per day until the age of 6 months, then reduce to twice per day.
We recommend you try to feed your dog at the same time each day.
Please ensure a supply of fresh drinking water at all times
Less Active: Less than 30 mins exercise per day
Active: 30 – 60 mins exercise per day
Highly Active: Over 60 mins exercise per day
| | | | | |
| --- | --- | --- | --- | --- |
| Bodyweight | | Less Active | Active | Highly Active |
| 6kg | | 89g | 105g | 121g |
| 8kg | | 111g | 130g | 150g |
| 10kg | | 131g | 154g | 177g |
| 12kg | | 149g | 175g | 201g |
| 14kg | | 170g | 200g | 230g |
| 16kg | | 187g | 220g | 253g |
| 18kg | | 204g | 240g | 276g |
| 20kg | | 217g | 255g | 293g |
| 22kg | | 234g | 275g | 316g |
| 24kg | | 251g | 295g | 339g |
| 26kg | | 264g | 310g | 357g |
| 28kg | | 276g | 325g | 374g |
| 30kg | | 293g | 345g | 397g |
Amounts recommended above are total daily amounts.
*Leader Adult Small Breed Supreme is recommended for dogs weighing less than 10kg
*Leader Adult Large Breed is recommended for dogs weighing more than 25kg
We recommend adult dogs are given two feeds per day. Provide half in morning and half in evening.
Pour the correct amount of Leader into your dog's bowl. Leader may be fed either wet or dry. If feeding wet, use 1 part water to 2 parts feed. Use lukewarm (not boiling) water. Feed should be fed within 30 minutes of preparation if fed wet.
Amounts provided in this chart are recommended guidelines and should be adjusted depending on your dog's individual needs. If your dog appears overweight, you may need to feed slightly less than the guideline amount. Similarly, if your dog appears underweight, you may need to feed slightly more. Monitor your dog's condition and adjust the feeding amount until the correct bodyweight is achieved.
Always ensure your dog has a plentiful supply of fresh water.
Store in a cool, dry place, away from direct sunlight.
This food is recommended for medium breeds until they are approximately 8 years old. From this age onwards, your dog is likely to have lower energy requirements and will require a diet tailored towards senior dogs.